Grinding and polishing @ Aaron Concrete Cutting Ltd
Polished concrete has become a popular flooring choice in both new and older homes; batches; workplaces and showrooms. It can be done in any commercial or residential building on either new or existing concrete.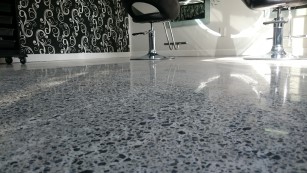 Polished concrete is practical, versatile and provides a classic look featuring clean lines which is durable and easy to clean. Easily clean with a mop and warm water with a small amount of floor cleaner.
What makes polished concrete so special is that every job retains its own characteristic look with natural settlement and use of stone chip so no two jobs will ever look the same. Creating uniqueness within your home or workplace.
For industrial floors and wet areas you can also have the option of non-slip sealers that will still provide a heavy duty, glossy finish.
The benefits of polished concrete floors
There are a number of advantages to having your concrete floors polished...
Low maintenance (easy to clean)
Reduces dust mite and allergy problems
Does not support mould growth
Reduces lighting needs and improves natural lighting
Another distinguishing feature of polished concrete is the smooth finish that we take pride in attaining to further enhance and unlock your concretes full potential.
A variety of finishes for your concrete floor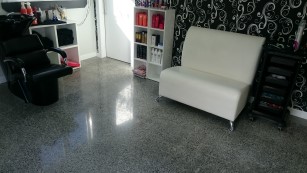 Looking to achieve a particular look with your concrete floors? We have a range of sealing products which provide different finishes for your floor, including...
Concrete grinding and polishing for...
Interior floors
Driveways
Patios
Pool surrounds and any other concrete surface
Visit us at www.aaronconcretecutting.co.nz or phone Lance 021814665 for all bookings and quotes